31 December 2006
Happy New Year 2007 to all our friends!! We hope this coming year will be a happy year with lots of fun and good health both for you and your horses!
December 2006
It is so GREAT to have my mares with me at our new place in UK. - Please see new Pictures of Fallaha.
Here is Grenlandia and Fallaha with me, before starting the travel to UK.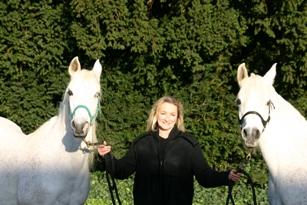 October 2006
We have lost a great friend - Anders "buddy" and travelling companion- Jörgen Frederiksen. I will always be very greatful for Jörgens many advice and his help to find my mares Pia, Fallaha and Bess Fanestha. Thank you Jörgen! We will always miss him and remember him in our hearts. Our thoughts goes to Jörgens wife and partner Susanne and the children Louise and Peder.
2006-10-15
I have added a picture of Bess Fanestha as well as pictures of Libanon Abaones earlier daughters Bess Delilah and Bess Felicity .
2006-10-06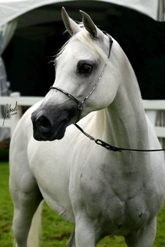 PIA is happy among her new friends here in UK and are getting used to the UK somewhat wetter wether than what she has been used to.
We have 6 mares tested in foal for the 2007 season, and to the stallions HS Exemplar, Naizaak, Ibn Estasha and Emiliusz. Some will be for SALE.
I can hardly wait to the spring to come and for the newborn foals!!
2006-09-19
NEW GUESTBOOK!! The earlier guestbook was unfortunately beeing impossible to clear from all junkmail. Sorry about this, but here it is again AND NOW BULLETPROOFED, As New!!
2006-09-17
PIA has left Belgium and European trainingcenter to come to us here in UK. THANK YOU Johanna & Philippa and your great team for the wounderful results you had with her for us at the shows. She will now get to know our other mares, and we are looking forward to her coming foal by Emiliusz next summer.
2006-09-16
WW Karmenzitaa has left us for her new owner Nettan ( Jeanette) Björk, Björkhill araber in Sweden, and we wish them great sucsess together. Karmenzitaa is such a fantastic person, and I know you will have a wounderful time together.
2006-09-12
NAIZAAK has moved to Blommeröd Stud, in Höör, Sweden for the 2007 breeding season, and will be awailible at public stud there. For further information, contact myself or
Blommeröd Stud direct +46 413 259 26.
HS Exemplare and WW Icarus will leave for UK in October.
2006-08-31
New pictures on Karmenzitaa, Aritza, Abaone and Nebula ( Mares and folas ), as well as on WW ICARUS ( Stallion )
2006-08-28
More pictures has been added at the Mares and foal pages
2006-08-18
There is so many news that I can not start to write about them all. Many pages has been updated now, but a lot more pictures will be added.!
The main news is that I have been fortunate to be able to buy some very exquisite Mares to add to my group, and that I have 2 super fine filly foals this year,
WW KARMA by Naizaak out of Kastanjet Foal Champion at NORWAY International Show, and WW ARITZA by Kubinec out of Libanon Abaone.
and that my WW ICARUS by Om El Extreem out of Ivernah was Champion Reserve at the Swedish Cup show
A sad news is the my old and beloved Stallion NIMBUSZ has passed away for some time ago, but it was in his field and peasfully
2005-04-20 STALLIONS page about HS EXEMPLAR by Eukaliptus and NAIZAAK by Gai Radiandt has been updated with pictures from the Stallion licensing.
2005-04-10 ww NASAGIPPA is growing day by day and adjusted well to her Stepmother the 25 years old Shetand pony Minnie.
New pictures on her page under the headline Mares & Foals.
2005-03-21 Re-arranged the FOR SALE site and also added ww Karmenzitaa as for sale, but only to some special home that will continue to show!! We are expecting 3 foals and have no empty stables!!!
2005-03-20 The filly foal out of ww Nasadika has been given the name ww NASAGIPPA ( Taken from Nasagip =meaning The rescued one). She is developing very well and grooving!!
2005-03-19 My Stallions HS EXEMPLAR and NAIZAAK went to the Swedish Stallion Licensing today. EXEMPLAR was judged Class 1, and NAIZAAK Class ll. I was very pleased with the results, and now Exemplar has to prove that he is as good Sire as Naizaak has showed us to be.
2005-03-12 ww NASADIKA had a dark bay filly foal the 5th of March by Om El Extreem. Mother and daughter is fine now, but it was very close to a short life for the little filly. Nasadika as first time mother did not have all the milk she needed for a hungry foal, but they are now both at Helsingborg Animal hospital recovering. Pictures will follow when they arrive back home again. THANK YOU to everyone at the hospital in Helsingborg! As the Veterinar said - The filly had all four feet already on the other side, but they got her back!
2005-01-16 New pictures has been added of the foal ww ICARUS, his mother IVERNAH and the Stallion NAIZAAK. as well as IS WARENA.
2005-01-03 Our thoughts and compassion goes out to all who suffer from the unbelivable disaster in ASIA!!
Please help us to help by sending donations through Red Cross, UNICEF or other organizations as soon as you can! Anything at all!!
2004-12-30 We wish all our friends a Happy New Year 2005!!
Our open day was a great sucsess with a lot of new and old friends that came to see us and our horses, and to enjoy the food and drinks as well as to see what Susanne Fredriksen from Mustang International had to offer for Christmas! We thank you all who made the day such a great day!! and Thank you Calle with team for showing the horses. A good reason for a little " pre-christmas" party..
2004-11-11 We are happy to inform you that Susanne Fredriksen, Mustang International from Denmark will be with us at our OPEN BARN DAY the 28th of November with lots of Christmas ideas for you. If you like her to bring you anything special, for instance Showhalter, Blankets, Treeless Sadles, etc etc,. Please let me know by mail, or contact Susanne direct on her email address info@mustang.dk or see her web page www.mustang.dk for suggestions.
2004-11-10 Sunday the 28th of November between 13.00 and 17.00 are we inviting you to our OPEN STABLE where we, part from presenting
our Arabs in all simplicity for you, also will enjoy some food and drinks and have a nice time together.
To calculate the food and drinks, I have to ask you to confirm as soon as possible by mail how many you are in your party.
WELCOME!!
2004-11-07 I have added some pictures of our 25 years old Mare whom we had to put down due to illness for some weeks ago Galaxja and her last foa
You will find her under the headline Horses we had & bred I have also changed the layout on the page of Horses we had & Bred so it is split between
Colt/stallions - In loving memory - Fillies/ Mares.
2004-11-06 We have been working hard getting our new stable for an additional 8 horses ready, and it is getting there!!
From this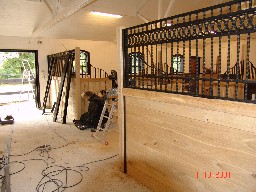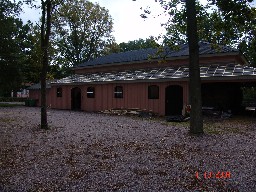 to this!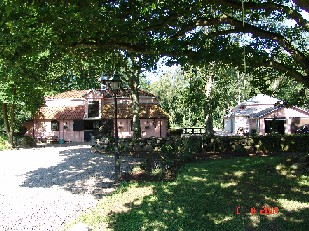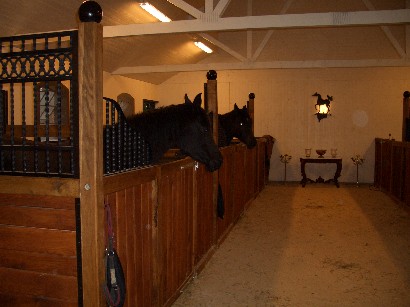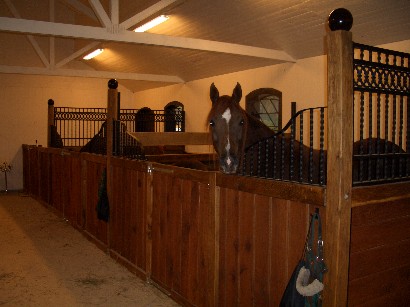 2004-10-21 New pictures has been added of our new Egyptian filly IS SAPHIRA.
2004-10-16 We are extremely pleased to inform our friends that we have purchased another filly from the ISMER STUD in Germany.
This time we could not resist the straight egyptian yearling filly IS SAPHIRA by Saphir / Siam out of Shams Isis by Ibrahim.
We are proud and exhited to have her, and she will be the start for our Egyptian breeding program.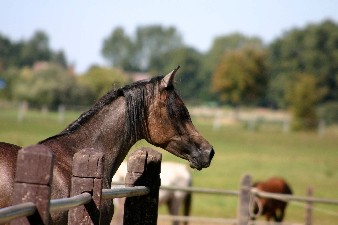 IS SAPHIRA- straight egyptian yearling filly
2004-10-14 We had to take the hard decision to let our 25 years old mare GALAXJA by Engano, go to permanent sleep and join her old friends in the
evergreen pasture in heaven. She is for ever in our heart, and greatly missed by us and everybody that got to know her.
Galaxja bred 13 foals for Blommeröd Stud, + she gave us her last foal- the Choklat coloured colt Gateau de Chokolat by Chock.
Out of these totally 14 foals she had 4 fillies- One deciesed as a foal, another is Gloria by Balon, our own mare Nebula by Nimbusz, and Gemini by Algorytm.
2004-10-05 I have decieded to amend ( registration of name was only was pending ! )thge names of my two colt foals born in March and May
to names that I think is more suitable for them. ww Galaxy will instead be named ww GATEAU DE CHOCKOLAT - reflecting his dark choklate color
and also reminds of his Sire´s name Chock. ww Nero will be nameed ww NICODEMUSZ- tall, strong and athletic.
2004-10-03 ww ICARUS was at 3,5 months old 3rd in his Futurity Class at Nation Cup, AACHEN, Germany among strong competition.
We are very proud of him, and are more than pleased with this result.
ww ICARUS and his mother IVERNAH, in foal to Om El Extreem again for a 2005 foal, has now returned to Sweden after some time in Belgium.
Thank you Johanna and Philippe, European Training Centre for looking after them so well for us.
2004-08-30 WW ICARUS was at 2 months old FOAL CHAMPION RESERVE at El Ran International A-show in BORGLOON, Belgium.!!!
He was very happy to have his Mother next to him, but when he had some time to absorb all strange things around him, he really
enjoyed it!!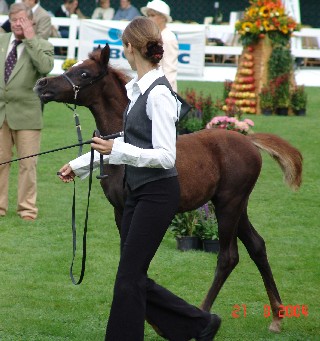 2004-08-04 Naizaak was 4th at the Swedish National Show with 86.58 points.
Thank you Johanna Ullström for having had him for this time, and for showing him so well both in Denmark, and now in Sweden before he now came home.
He did not behaved his best that day, but as we all know, that happens!! l. Thank you Johanna!!
2004-07-16 I am very happy and honoured that I have been allowed to purchase this outstanding young filly from the ISMER family
- IS WARENA by Madkours Impuls out of Wadema/Orion.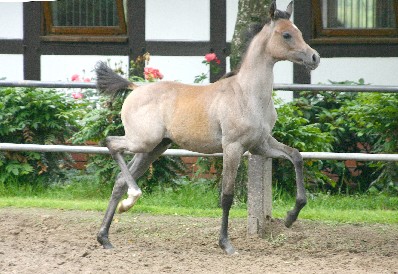 Thank you Almuth, Holger, Ann and Mark ISMER, Germany, for this great filly !!! and Thank you Johanna Ullström for finding her for me!!
2004-06-29 Have changed the lay out of the horses ( mainly the Mares sofar ) own "pages" to include show results, performance as well as breeding results.
2004-06-28 A new picture of IVERNAH, taken by Johanna Ullström, has been added on IVERNAHS page ( Mares & Foals).
2004-06-26 ww NASADIKA by Simeon Sadik out of Nebula is tested in foal to Om El Extreem for a 2005 foal, and her dame
NEBULA has just visited AJA SANAGOR for a 2005 foal. Fingers crossed for the result.
2004-06-08 Our Mare IVERNAH by Crusader out of Ivanah, gave birth to a colt foal WW ICARUS! She will be re-bred to Om El Extreem for a 2005 foal.
A grey full brother to last years chestnut colt WW EXTREEM FANTASY who now lives in South Africa. The proud father to both is Om El Extreem.
2004-06-05 Danish International A-show at Vilhelmsborg. Our 4-years old Stallion NAIZAAK was 3:e with 88,2 points at his absolute FIRST SHOW EVER!!
On top of that did he become TOP FIVE SENIOR STALLION !! Thank you Johanna and Philippe at ETC for showing and producing him so well!
2004-06-01 Our 6 years old Stallion HS EXEMPLAR ( Eucaliptus x Electa/Palas ) has arrived back to Sweden from his 2 years in UK where he has sucsessfully competed
as Ridden Stallion, gently produced by Clare Fitch.
2004-05-06 Pictures of the latest foals have been added. More pictures to follow - of course!!
2004-05-03 Kastanjet had a filly foal by Naizaak, and Nebula had a colt foal by Naizaak. Pictures to follow
2004-05-01 Picture of Galaxja´s foal added under the headline Mares & Foals as well as under For sale.
FOALING TIME!!
2004-04-09 LIANA had a pretty filly foal by Om El Extreem.
The filly has been namned ww DZOLA BAAD by her new owners HÖGSÄTER ARABIANS, who also is the new owners of LIANA
ww DZOLA BAAD enjoying the first days out.
(Photo M.Hurtig)
2004-04-04 New picture of our Stallion NAIZAAK -
2004-03-31 DZAGATO has arrived home to us from his year staying together with his mother LIANA at her new home with Maria Hurtig.
2004-03-30 GALAXJA born 1979!( by Engano out of Aleksja/ Exelsjor) gave birth to a beautiful solid dark bay colt by CHOCK ( Nimbusz x Caroline/Rusazcie ) this morning. Everything went well and both are fine. Pictures will follow shortly.
2004-03-24 We have the pleasure to inform you that the, for Swedish show ground, well known CALLE ANDREASSON have started to work with us as our new Stud Manager and Resident Handler. Calle has worked latest at the European Training center in Belgium for two seasons, as well as with Frank Spönle earlier. Calle has been involved in training and showing Arabs in Sweden for almost 15 years, and we welcome his quiet and calm way with the horses . This year will be a quiet year with catching up work and finishing building paddocks, stables etc and only a few of our horses will go to any shows, but from 2005 we will be able to offer better facilities for show training of both our own horses as well as clients and for visiting mares to our Stallions. Calle can however help out and show your horse "on the showground" this summer in Sweden, according to separate agreements and arangements. Please contact us for further discussions!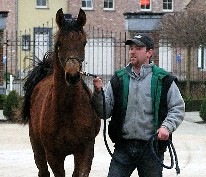 Calle and Nextreem in Belgium. Photo Johanna Ullström.
2004-01-27 Our Stud Manager and long time friend Christina Uhlén have decieded to stop working with our horses from this spring due to old back injuries that is giving her increasingly great problems and pain. We wish her when she and her own 2 horses leaves us in the summer All the luck with a full recovery and happiness in her new path in life.
2004-01-27 Updates of the pages STALLIONS and MARES. New pictures of Naizaak added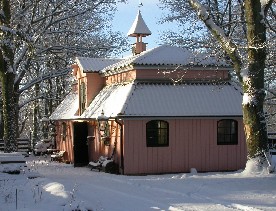 One of our stables when the last snow came.
2004-01-16 New link has been added - www.arabiyya.nu
2004-01-15 Please look under: For Sale, and WW Dzagato´s page (under headline Mares and Foals) It has been updated with a picture of the
great USA Triple Crown Champion Stallion WN Ultimate Star.
2004-01-12 Our beautiful Colt foal WW EXTREEM FANTASY -Out of IVERNAH by Om El EXTREEM - will leave us this month
to start his long flight to South Africa and his new owners Mrs and Miss van Dyk. We wish them all Sucsess and a Great Future together!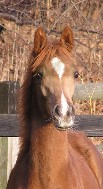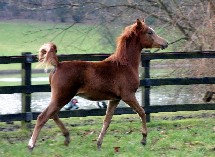 2004-01-06 ----- VACANT POSITIONS FOR 2 POSITIVE AND WARMHEARTED PEOPLE !!!!!!!
I AM LOOKING FOR 2 PERSONS TO WORK IN OUR STUD ( CA 12 HORSES INCL. FOALS) FROM THE MIDDLE OF THIS SUMMER. GENERAL STABLE DUTIES, STALLION HANDLING, COVERING OF MARES, FOALING, SOME RIDING AND GENERAL HANDLING AND TRAINING OF YOUNGSTERS IS REQUIRED, -- and GENERAL MAINTENANCE OF GROUND, FENCE ETC ETC. ---GOOD SALARY AND THE FULLE USE OF A 3-BEDROM HOUSE WITH OPEN FIREPLACE , PRIVATE GARDEN AND 2 MINUTES WALK TO THE LAKE IS OFFERED. -- THE STUD IS BASED IN THE SOUTH OF SWEDEN - 50 km FROM MALMÖ- 45 MINUTES FROM COPENHAGEN (DENMARK) AIRPORT AND 5 km OUTSIDE THE CITY OF HÖÖR.
2004-01-05
New picture of the mare IVERNAH and the young Stallion NAIZAAK has been added.
I have also changed the HORSES WE HAD AND BRED to only have a list the names of the horses without pictures to make it easier to download, and if you would like to see pictures and pedigree, you just click on the name of the horse.
2003-12-03
Merry Christmas and a Happy New Year from all of us to all of you!!!
2003-11-21
LINKS have now been started with some few links. I would be very happy to add your web page to my side.
Please mail me with your banner and web address.
2003-11-20
Have added some pictures of the Stallion HS. EXEMPLAR - Headline STALLIONS, as well as a picture of Graciosa and Cheszka -
headline HORSES WE HAD & BRED.
2003-11-15
Have updated "mother and son" IVERNAH´s and ww EXTREEM FANTASY´s pages with a new picture,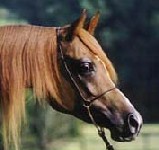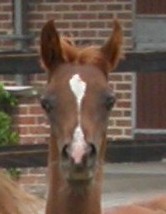 2003-11-06
New picture of Naizaak ( STALLIONS )

ALSO - I have changed that when you click on the picture -not the name, you will see the full pedigree and more pictures.
2003-11-05
The format for the web page has been changed to 1024 x 768.
Please press the refresh buttom on the web browser if you experience some difficulties.
FOR SALE has been added, where we offer you our colt foal ww DZAGATO.
You can also see a list of next years expected foals!!
2003-10-20
Have tryied to send the faulty pictures again. New pictures added for ww Korona ( Sire Borneo )
2003-10-19
I have added pictures of ww NASADIKA and NEBULA ( Headline: Mares and foals )
as well as foal picture of NOTORIOUSZ ( Nebula x Piechur ) ( Head line: Horses we had, horses we bred )
2003-10-18
First of all:
Congratulations to the Swedish team at the Europena Champion ship in Dressage and Western !! Well done!!
secondly:
Added new pictures . Look under the head line Stallions: Chock
and under the head line Horses we had-&horses we bred: Granit, Nieska
Also added "old" pictures of Nidshem and Caroline in the pedigree of NIMBUSZ and CHOCK - headline STALLIONS.
2003-10-10
Back from Aachen Show - Nations Cup - the last weekend in September I am very happy to congratulate all the winners, but closes to my heart is the sucsess with our home bred filly ww KORONA, now owned by Q-Arabians - Ewa and Micke Jacobson, when she competed in the class for 3-years old fillies with such good results.
2003-09-21
Arab SM -Dessage and Showjumping - has taken place today and yesturday at Blommeröd Showground. CHOCK with rider Susanna Uhlén 15 years old, had one second and one first place as well as second place at the Hippodrome. More Pictures under Chock´s own page.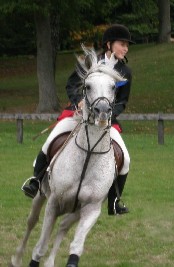 Pictures have been added of Nimbusz and Granits parents. Please click on the name when the Hand shows. Picture on Parys have been added.
2003-09-13
The layout has changed so you get the Picture enlarged if you click onto it when a hand is showing, and Pedigree and more pictures if you click on the name below the horse.
LIANA and her unborn foal by Om El EXTREEM is sold to Maria Hurtig and HansClemetz of HÖGSÄTER ARABIANS in Sweden. We wish them all sucsess in the future.
2003-09-11
Pedigrees have been updated. More pictures added in most places. More to come
2003-08-24
Pictures have been added, and there is more to come!!
2003-06-30
Our Web page havestarted, and will constantly be uppdated with pictures and information.Please be patient.
Best regards
Veronica Mann-Wernsten.