GALAXJA is now living with us from 2002 by kind permission from Vicke Philip-Sörensen,
Blommeröd Arab Stud, where she was born and has ever since been one of their most valuable Broodmares all her life.
She is also the Dame of our beautiful Mare NEBULA by Nimbusz.
On the pictures below from April 2004 when she is 25 years old ,she is with her last foal Gateau de Chokolat by Chock.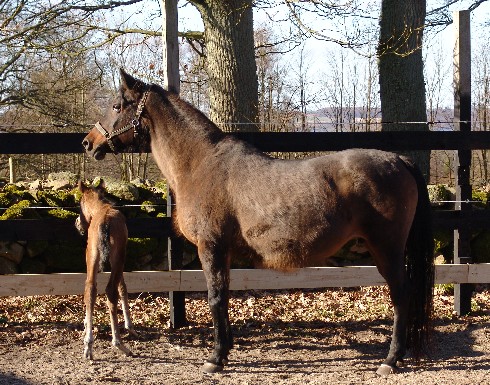 GALAXJA 25 YEARS OLD, WITH HER LAST FOAL
BREEDING RESULT
1983 Grey colt GALAS by Partner
1984 barren
1985 barren
1986 Bay colt GAGATEK by Probat - deceased
1987 Grey filly GLORIA by Balon
1988 Bay colt GROM by Da Capo
1989 Bay filly NEBULA by Nimbusz
1990 Bay colt STAR by Cerograt
1991 Bay colt ENOX by Pionier
1992 Bay filly GEMENI by Algorytm
1993 barren
1994 Grey colt GALOON by Donkiszot
1995 not bred
1996 not bred
1997 Grey colt GENDEL by Endel
1998 Grey colt GAUGAN by Endel
1999 not bred
2000 Grey colt GADJET by Dart
2001
2002 Bay filly -deseased
2004 Bay colt WW Gateau de Chokolate by Chock
GALAXJA was put to sleep in October 2004 due to an old tenden injury and subsecuent bad knee,
and is now grazing the ever green fields in heaven with her old friends.
We will always miss her!!